Exclusive Shoes - Pumps, Boots & high-heels - Made In Italy - sizes 32 to 48 EU
High Heels Fuss
Welcome to the High Heels Shop pre-
sented by FUSS-Schuhe from Germany
In our shop it's all about high heels. Whether you are into extravagant
High Heel Pumps or Overknee Boots out of leather – our onlinestore offers
a great variety of sexy shoes. Check it out!
undersizes and especially oversizes are our specialty: Our special offers include several versions of women's shoes and women's boots ranging from shoesize 32 EU up until High Heels in shoesize 48 EU.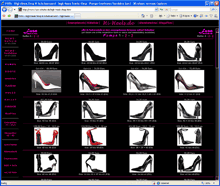 All available shoes in our onlinestore are in stock and ready for immediate worldwide shipping!
Our News category (»High Heels Gallery) keeps you informed about new arrivals in a clearly arranged photo gallery. Come and have a look!


The shoes from our exclusive "FUSS-Collection" are produced in Italian handcraft. Just look for the label in the article's description.
Specials
High Heels Gallery Shop: new shoes, presented to you by our models every week. Have a look how our high heels look in
real life before you buy!
Sub sizes: Our category for sub size womens shoes contains boots, pumps and many other models in sizes ranging from 32 to 35,5 (EU sizes) - with several hundreds of pairs on stock at any time.